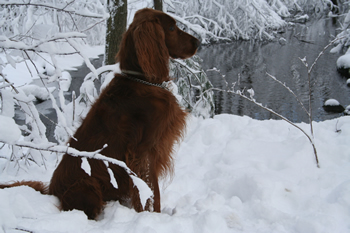 BRADY, T.D.
05/28.2000 - 11/03/2009

Brady was a rescue dog. He was adopted from the Irish Setter Rescue League located in Central Connecticut. He had some wildness issues, at first, but they were eventually corrected through training. Also his new home at George and Janice Mc Carthys' was a key factor.

Brady bonded with George and they became a Pet Therepy Team with Dog Bones of Masschusetts. The team visited Veterans Facilities,Colleges and Rest homes frequently.
The Team, Brady in particular,had a way of leaving a lasting impression on people they met.

Brady was gifted with love and compassion which he gave freely to all. The Team, Brady and George, bonded in a special way. Brady passed away on Tuesday 11/03/09 at 4:00PM from Cancer. Brady will be sadly missed by those he visited and everyone at Dog B.O.N.E.S.