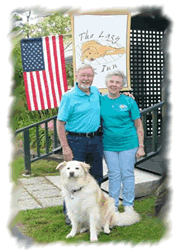 Lad provided me with a very important message with our many "visits" to extended care facilities, special needs kids, disturbed teenagers and private visitations to those in need.
As I was quoted on the Cronicle Program in May, 2009 at the end of our segment, while making a visit to St. Camilus Health Care Center in Whitinsville, I was asked "What is it about these animals that make them so special?" My response was "therapy dogs bring unconditional love and no BS to those in need."
Also after making these visits Lad always made me realize that "by the grace of the good Lord someday go I."
Friends of Dog Bones: Please keep up this wonderful ministry of bringing special comfort to those suffering personal, physical or emotional needs. Thank you, Jeanne and Dog Bones, for giving us the opportunity to practice this special ministry.
Stay well and play well..............
Ed and "Lad"