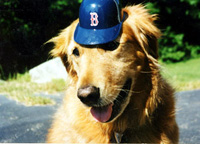 Celebrating Sam
Sam Iannoni, T.D. (November 20, 1994 - July 13, 2004) faithful companion to Barbara and loyal friend to Nick and Gemma, a delight to all who touched him. His favorite past times were running free along the trails of the White Mountains and chasing tennis balls off the shore of Plum Island. One of his best-liked foods was macaroni, although it would be difficult to think of a people-food Sam did not prefer. His nick names included Sammy, Miami, Samsonite (after he started to wear his new harness) and "Sammy Iannoni, the best dog in the whole wide world dog."
Sam became an integral member of the Iannoni family when he was just one year old, over Thanksgiving weekend in 1995. After learning from "DW" of a kennel giving away pure-bred golden retrievers, the Iannoni family had no difficulty choosing a pup; naming him was a different story all together. The smallest of a litter of eleven, "Sam" (Gemma's winning entry over "Ralph" and "Biscuit") had to learn how to walk down a staircase and get into a car (the latter which he always refused to do on his own, in spite of the fact that most every ride brought him to a fun place).
Sam lived his early years in Hampton, Connecticut, where he enjoyed the freedom of the outdoors - his home being surrounded by trees, brooks and pond. In 1998, he became a city dweller, moving to Newburyport, Massachusetts. He was responsible for introducing his mom to several new friends, some of whom have become very dear. Sam was well-known and loved by many in his neighborhood and community. Often the recipient of affectionate pokes and hugs from babies and toddlers, he graciously attracted little hands to his coat during his many walks along the harbor front and shop-lined streets.
No matter what the season, Sam was always excited to visit his get-away home in Intervale, New Hampshire. There, he developed a special fondness for his neighbors and family and friends who came to visit. He especially loved Donna, who always made him smile, and his playmate Chado. Bounding through the snow or dunking in a mountain stream, he relished his northern adventures.
In March of 2003, Sam earned the designation of certified Therapy Dog after participating in a five-week training program offered by Dog BONES - Dogs Building Opportunities for Nuturing & Emotional Support, Therapy Dogs of Massachusetts. He was a recognized visitor to the Milk Street group home, lifting the spirits of the clients who came to know him.
During his last few months, Sam established a special bond with Stephen, Barbara's brother, who walked him and took care of him in her absence. He was also able to re-connect with Ellen, mom to his buddy Judy, who eased his suffering and that of his family in his final days.
Sam was a sweet, loving friend who brought joy to everyone he met. God honored him by allowing him to live his life to the fullest, with a peaceful parting during his sleep.