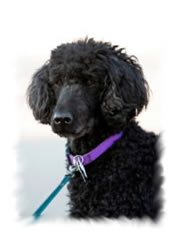 Hannah
April 5, 1999 ~ October 16, 2010


It has been almost two years since Hannah began her battle with lymphoma and she was a brave and sweet girl through every minute of it. I am so grateful to you for all the love and support you have shown us. Hannah left us on Saturday, October 16 at 4:00 p.m.
Hannah had a great life and was loved and deservingly admired by so many of you. My sweet girl has given us all so many happy memories. She was such a pretty and beautiful dog. Always independent and a bit downright stubborn, she loved riding in the car and chasing cats. We drove to Grafton on a beautiful fall day with peak foliage surrounding us. Although she was weak and frail, Hannah was alert on our drive and I am sure she enjoyed her very last ride. Born April 5, 1999 in Dennisport on Cape Cod, Hannah was the 10th pup in that litter with her brother Leo. She loved hiking in the "big park" and saw the peaks of many mountains. She loved getting to the summits and looking out at the beautiful scenery. Her gentle and dignified spirit will always remain in my heart. I will miss her dearly.