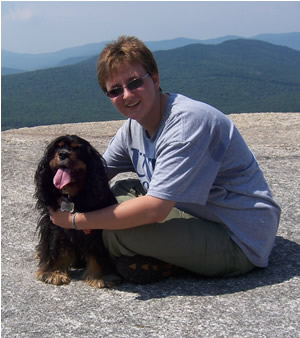 A Tribute to Isabel
.....For 10 and a half years, every single day of my life, Isabel brought me joy and love, overflowing. There was never a down day, a hard day, or even a mixed day. There was not even a mixed moment. Isabel never chewed a shoe, had an accident (unless ill), made a mess, or got pushy. She always greeted me joyously, tail awag, with a stuffed chipmunk or squirrel toy in her mouth. How I loved that greeting – her soft face, smiling around a fat chipmunk, as happy and proud as if she'd caught it herself.

We shared a love of the woods, Isabel and I. Unlike other family members, I did not have to coax or convince her to take to the woods with me. We shared hundreds of hikes at the Fells, many runs there (until recent years), and she hiked seven 4000-footers in the White Mountains with me, when she was 8 and 9 years old. People were amazed to see her atop these tall, tall mountains. Last winter, when I tried a "solo" hike, I cheated. Isabel was there with me on Mt. Watatic, and I was anything but alone......
Isabel ~ Heart Dog
Ten years ago
You came to snuggle under covers at my chest
A puppy's sweet heart--
Beating against mine

I came to call you my heart dog
Joined so tight – almost as if we were sharing
one beating orb

And then last night, on our walk
When you could not take another step
I carried you against my chest
Your heart --
Beating against mine

Your heart
As big as the sun --
Love its only language

Your heart,
the doctor says,
Is too big for you

Too big, perhaps,
for this world

I carry you, arms aching
My heart,
Breaking against yours.