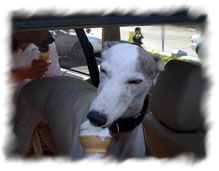 Jill
March 2, 1997 ~ May 3, 2010


My friend, my companion and my love. She is sorely missed but will always be within my heart. Jill gave so much to everyone and brought many much joy and happiness to those she encountered in many environments.
As she passes over The Bridge she is happily joined by her "Meet" friends and Seabrook kennel pals! First, she is greeted by Murphy- his most stately manner prevails, then Holly who is waiting patiently for her turn to say "hello", and the most elegant Joey- wagging his tail as he has just finished another box of cookies, and finally, her "Valley Street Dog Park" friend Brian, is happily ready to run the length of their luxurious new park! Jill does a few of her flirty, fancy little turns and the dogs are off (running in the pattern of the oval track!) --and of course little Jill is in the lead--anxiously turning her head to look over her shoulder. Her friends must be following but to the rear......
With much sadness we say good-bye.I