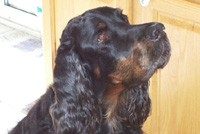 Speedy was a really caring, gentle Therapy Dog, especially with children. Every Tuesday we visited Seven Hills Children's Center in Groton, Ma. He was always so gentle and kind with the kids, climbing on chairs so he could get closer to them. We used to lay his ears across their trays so they could pet his soft ears.
I tried taking him to Nursing Homes, but he more or less ignored most of the patients there. He was more interested in the tennis balls on their walkers! :-) But if someone was dying or very sick, he knew and he would go to their bedside and lay his head on their bed so they could pet him. He had such a talent for knowing when someone really needed him.
10 1/2 years ago, Tom and I went to pick Speedy out of a litter of 8 male puppies at 8 weeks old. talk about hard,,,picture 8 little identical black and tan Gordon Setters running around. Thank goodness they all had colored collars. This one puppy, blue collar, kept coming and laying his little head on Tom's foot. I ignored him since I wanted a puppy that chose ME! (selfish, huh? LOL) Well, when I picked up little Speedy, there was electricity which none of the other pups gave me, so I knew he was The One. I swear, even then, Speedy knew Tom was going to come down or already had the beginning of cancer. He was MY dog from the start, usually ignoring Tom until 4 years ago when he was diagnosed with Cancer for sure. It was kind of funny,,,it got to the point I would call the doctors at Dana Farber to say Tom was not feeling well, and they would ask "What does Speedy say"! LOL
I lost my husband to cancer in December. Speedy took such good care of him and used to tell me when Tom was going to be sick. He was never wrong. That day or the next, we would have to rush Tom to the hospital.
I knew when I lost Tom that Speedy would be right behind him since his job on earth was over. Within a few days, they found the cancer in Speedy. Speedy lost his battle with cancer passed away Wednesday, May 5, 2006.
Cil
and Sally